Whoever designed
Columbia Business School's
The MBA Application Process
webpage deserves a design award. If you have not done so, take a look at that page. It does a really nice job laying out the admissions process in a visually appealing way.
Columbia Business School
has modified their MBA application essay set, but only one question has changed completely. Those applying for January and August 2015 entry will find that they are likely to spend as much time thinking about how to answer Columbia's essay questions as answering them. Given the limited space applicants will have to work with, coming up with answers that stand out is critical.
You can find testimonials from my clients admitted for CBS
here
. Since 2007, when I established my own consultancy, (I have been an MBA admissions consultant since 2001) I have been fortunate to work with 24 clients admitted to Columbia Business School for either January or August admission.
Before discussing the essays, I will discuss who
J-Term
(January Entry) is for and differences between Early Decision and Regular Decision for August Entry. For my analysis of recommendations for 2015 admission, please see
here
. For my analysis of Columbia Business School application interviews, please see
here
.
Rolling Admission
The first thing to keep in mind about admission to both January Term and August Term (ED and RD) is that Columbia uses a rolling admissions system. While there are final deadlines, since applicants' files are reviewed and decisions are being made as they apply, by the time that that the final deadlines have arrived most seats are already filled. Rolling admissions works just like buying assigned seats for an airplane, movie, concert, etc. When they are gone, they are gone. Columbia's rolling admissions system is a differentiator from other top MBA programs because only Columbia uses this system. Rolling admissions is commonly used by EMBA programs.
J-Term
The Accelerated MBA, J-Term, can be a great program for those who don't need an internship. All my admitted J-term clients have one thing in common: Real clarity about their goals and strong track records in their professions. J-term is not for career changers, it is those looking to enhance their position within their present career trajectory and/or entrepreneurs. Keep the following into consideration when explaining why the January Term program is right for you:
The program is designed for those students who do not want or need an internship and don't require merit fellowships. The principal advantage of the 16-month program is its accelerated format, which allows members of the smaller January class to network quickly and effectively and return to the workplace sooner. You need to make the case in Essay 1 (Goals essay) and/or the Optional Essay that you meet the special criteria for this program and that an internship is not something critical for you. For those who don't need an internship, this is really a great program. It is an even better program for those who
Here are some common issues that arise when considering J-term:
Is J-term easier to get into than August entry?
There is much speculation on this issue, but no admissions data. All I know for sure is that relatively late application to J-term has not prevented my clients from being admitted, whereas late application to RD is a real problem simply from a seat availability perspective. In one way, J-term is clearly easier: Unlike an August entry RD and (and to a lesser extent ED) applicant, someone applying to Columbia J-term can really be assumed to prefer Columbia over all alternatives. This can make interviews a bit easier in the sense that August entry Columbia alumni interviewers are notorious for being particularly aggressive at determining whether the interviewee's first choice is really Columbia. Since J-term has no real US rival, this topic can be easily dispensed with.
Alternatives to J-term:
There are no US alternatives to J-term worth mentioning if someone wants a January start. Kellogg and Cornell offer one year MBAs, but neither Kellogg nor Cornell start their programs in January and both are accelerated programs in terms of the number of courses taken. Only J-term makes it possible to do a full two-years of courses on such an expedited basis. In addition, the Kellogg program is extremely restrictive, since one has to have the equivalent of an undergraduate degree in core business courses to attend it. Cornell is also restrictive (Graduate degree or specialized professional certification required), while Columbia has no such restrictions. I have had clients who apply to J-term and IMD and/or INSEAD. Both IMD and INSEAD have January entry. Still J-term is an incredibly different program in terms of length and content from either of these top European programs. LBS, which does not have a January start, would als o be another alternative to CBS in the sense that it can be completed on an accelerated basis. Still I don't have many clients who apply to both CBS J-term and LBS and as is generally the case with US schools, I don't think they pay much attention to non-US programs as competitors.
Can an August entry applicant reapply to J-term?
Yes! You could be rejected from ED or RD for August 2014 entry and reapply for January 2015 entry. If you entered in January 2015, you would graduate in the Class of 2016 with those who entered in August 2014. I have worked with a couple of reapplicants who were admitted to J-term after being dinged from the August entry for that same graduating class. The key issue is explaining why J-term is now a better choice.
August Entry: ED Versus RD
Applying for Early Decision (ED)
is ideal for anyone who considers Columbia to be their first choice and is ready by the application deadline of October 8th. Columbia takes ED very seriously, so I suggest you do as well. CBS ED really is unique among top MBA programs and the decision to commit to it should not be taken lightly. Every year many applicants to Columbia Business School have to deeply consider whether to apply to the ED or RD round. First keep the
official statement
from Columbia regarding ED in mind:
Candidates have decided that Columbia is their first choice and must sign the following statement of commitment within their applications: I am committed to attending Columbia Business School and will withdraw all applications and decline all offers from other schools upon admission to Columbia Business School
Applicants must submit a nonrefundable $6,000 tuition deposit within two weeks of admission.

In my experience, there are two types of applicants to ED. The first type are those people who really consider Columbia as their first choice and sometimes make or hope to make no other applications. For this type of applicant, choosing ED is easy. The second type of applicant likes Columbia, but it is not necessarily their first choice. This type of applicant applies to ED because it is perceived as easier to get admitted to than Regular Decision (RD). This type of applicant treats the $6000 deposit as an insurance policy in the event that they are not admitted to HBS, Stanford, and/or Wharton (I don't know of any cases of applicants forfeiting $6000 to go to other top programs, but suppose some one has done it). If they do get into HBS, Stanford, or Wharton and break their commitment to Columbia, they lose $6000 and make Columbia admissions mad. Can Columbia do anything aside from keeping the money? No. For those who have no problem breaking oaths and losing $6000, treating ED as possible insurance is a rational decision through clearly not an ethical one. As an admissions consultant, my sole concern is helping my clients reach their admissions objectives, so I don't pass judgment one way or another on this issue. Based on my sense of how seriously admissions takes ED, I was not at all surprised that the Columbia Admissions office did not respond to my request to meet with them last fall since I don't advocate on behalf of their ED policy. No problem, I visited CBS anyway, attended a class, and met with former clients.

I do recommend the January 7th Merit Fellowship deadline or earlier as optimal for applying to RD. While you can consider January 7th to be kind of a "Round Two Deadline," I recommend you apply as soon as you are ready to do so. I would especially encourage those coming from groups with large numbers of applicants (American males from Wall Street and Indian males in particular), to make their applications to RD ASAP. That said, RD takes applications until April 15, 2015, so applications are still viable for some applicants until quite late in the admissions cycle. In general, applying late in RD is best for those with highly unusual backgrounds, stellar backgrounds, no need for merit scholarships and a love of gambling. In other words, if you are not exceptional, applying late in RD to Columbia is a very high risk activity.

How to leverage RD to your advantage when applying to other MBA programs in the First Round. If you are applying in the first round, an ideal time to apply to Columbia is after you have completed all the applications that were due in September to mid-October. Assuming you are relatively freed up, while you are waiting for your R1 invites, apply to Columbia. This means you will be considered early in RD and that is an advantage because there will be more seats available.

How to leverage RD to your advantage when applying to other MBA programs in the Second Round. Since most R2 applications are due in January, applying to Columbia in November or December will still give you a relative advantage over those applicants that apply right before the Merit Deadline. Again, the earlier, the better your chance for an available seat.


The Essay Questions
I have taken the essay questions from the online application.
Instructions: In addition to learning about your professional aspirations, the Admissions Committee hopes to gain an understanding of your interests, values and motivations through these essays. How you answer these essays is at your discretion. There are no right or wrong answers and we encourage you to answer each question thoughtfully. The "What is your immediate post-MBA professional goal?" question, Essay 1, Essay 2 and Essay 3 are all required.


What is your immediate post-MBA professional goal? Required by all applicants. 75 characters including spaces!)
Take this very short statement seriously. Last year, it was 100 characters long (and the year before that 200 characters), but it has now been cut to 75 characters. Remember this is 75 characters, not words! This would be about 10-20 words.
Given the length, you can't possibly expect to explain what you want to do short-term. That is what Essay 1 is for. In fact, it is best to simply write this little statement after you have a good working version of Essay 1.
CBS actually provides examples of possible responses in the online application:
Examples of possible responses:
"Work in business development for a media company."
"Join a consulting firm specializing in renewable energy."
"Work for an investment firm that focuses on real estate."
As you can see from the above examples, CBS is looking for a short, but a very clear statement of what you intend to do after your MBA. If you have difficulty explaining your immediate post-MBA plans in the space given, I think that is likely an indication that your plans are too complex, vague, or otherwise not well thought out. What you state here should be backed up by what you discuss in Essay 1 (or the reapplicant essay for reapplicants) and possibly in the other essays.

If you can be clever or catchy in formulating this response that is fine, but it is a completely secondary consideration to simply stating something that is very clear and that is completely consistent with what you write in Essay 1. Being clever os not critical here, being clear is
Essay 1: Given your individual background and goals, why are you pursuing a Columbia MBA at this time? (500 words) (Maximum 500 words)
This is a revision of the question from last year, which did not include "and goals." Since it does mention goals, explain your goals here. While you will have stated your immediate post-MBA goals in 75 characters, you need to explain that and your longer goals here. Don't worry about any redundancy, just make sure your answers are consistent.

Be strategic and thoughtful about you are wanting a Columbia MBA now: Given the importance of being able to state your post-MBA goal clearly in 75 characters or less as well as the need in Essay 1 to explain why you want a Columbia MBA now, is is critical that you be strategic and thoughtful in presenting your post-MBA plans and your reasons for wanting a Columbia MBA.
If you are having problems clearly articulating your goals either in Essay 1 or in the 75 character statement, I think
Gap
,
SWOT
, and
ROI
analysis are great ways for understanding what your goals are, why you want a degree, and how you will use it.
The following image may not work for all browsers. If so, see
here
.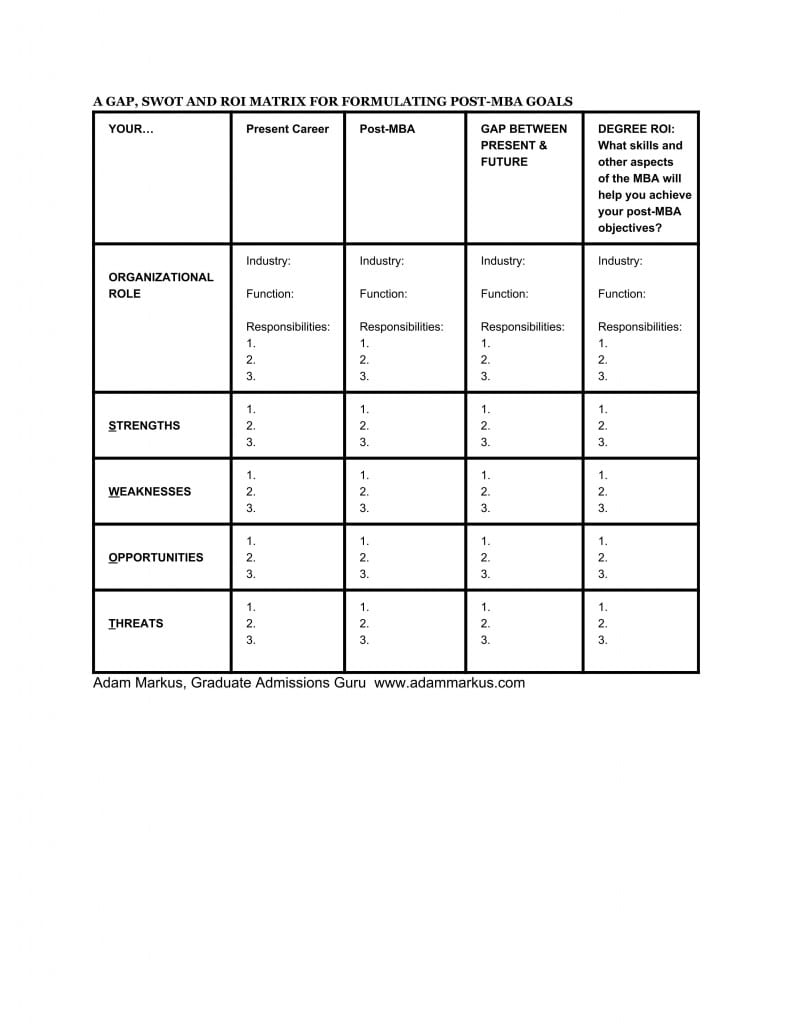 (A Google Docs version of this matrix can be found at
https://docs.google.com/document/d/1WobczFFLHBzQRxUeuwBRNmGQ3q-RKP_94iGHuLlXXEs/edit?usp=sharing
)
Step 1. Begin by analyzing your "Present Career." What roles and responsibilities have you had in clubs, part-time jobs, internships, volunteer activities, etc.? What was/is your functional role(s)? What was/are your responsibilities?
Next, analyze your present strengths and weaknesses for succeeding in your present career. In particular, some of your greatest strengths may have been demonstrated outside of work, so make sure you are accounting for them.
Strengths: What are you good at? Where do you add value? What are you praised for? What are you proud of?
Weakness: What are you bad at? What are you criticized for? What do you try to avoid due to your own limitations? What do you fear?
Next, analyze your situation in right now. What opportunities exist for your growth and success? What threats could limit your career growth?
Step 2. Now, do the same thing in Step 1 for your "Post-MBA" future after you have earned your graduate degree. If you cannot complete this step you need to do more research and need to think more about it. I frequently help clients with this issue through a process of brainstorming.
Step 3. If you could complete step 2, than you should see the "Gap" between your present and your future. What skills, knowledge, and other resources do you need to close the gap between your present and future responsibilities, strengths, and opportunities?
Step 4. After completing Step 3, you now need to determine how an MBA will add value to you. It is possible that an increased salary as a result of job change will be sufficient "ROI" for the degree to justify itself, but you should show how a degree will allow you to reach your career goals. How will the degree enhance your skills and opportunities and help you overcome your weaknesses and external threats? If you can complete Step 4, then you should be ready to explain what your goals are, why you want a degree, and the relationship between your past and future career, as well as your strengths and weaknesses.
The above table will also help you answer such common interview questions as: Where do you want to work after you finish your degree? Why do you want an MBA? What are you strengths? What are your weaknesses? What are your goals?
Be informed about your goals. Columbia Admissions needs to believe you know what you are talking about. If you are changing careers, no one expects you to be an expert, but you should come across as having a clear plan based on real research into your future. If you are planning on staying in your present industry, you should be well informed not only about the companies you have worked for, but about the industry as a whole. If you are not already doing so, read industry related publications and network.
Those August ED and RD applicants who are changing fields should most certainly read industry related publications in their intended field. Additionally I suggest conducting
informational interviews
with at least one peer level and one senior level person in that field. Conduct a peer level interview to get a good idea of what it would be like to actually work in that industry. Conduct a senior level interview to get the perspective of someone who can see the big picture and all the little details as well. Don't know anyone in your intended field? Network! One great way to start is through
LinkedIn
. Another is by making use of your undergraduate alumni network and/or career center. No matter whether you are changing fields or not, learn what is hot now and try to figure out what will be hot by the t ime you graduate. Now, of course, this is just a plan and chances are that what is hot in your industry or field now may very well be cold in the future. The point is to come across to Columbia Adcom as someone who is not only well informed, but has CUTTING-EDGE knowledge. In addition to Columbia's
Public Offering
blog, also look at
ideas@work
, and
The Chazen Web Journal of International Business
. Some other great general sources for learning what is hot:
Harvard Working Knowledge
,
Harvard Business Review
,
University of Chicago GSB's Working Papers
,
The University of Chicago&#82 17;s Capital Ideas
,
Stanford Social Innovation Review
,
Knowledge @ Wharton
, and
MIT Sloan Management Review.
You may also want to do a search on itunes for podcasts: My favorites are Entrepreneurial Thought Leaders (from the Stanford School of Engineering, but totally relevant) Net Impact, Chicago GSB Podcast Series, and Harvard Business IdeaCast. INSEAD, IMD, LBS, and Wharton also have podcasts. Other sources: Read magazines, websites, and books that relate to your intended field.
If at the end of the above process you feel as though you are uncertain about whether you need an MBA, please see
Do You Really Need an MBA?
Balance Experience and Why Columbia?
Columbia is specifically asking why now in reference to your background as well as your goals. As result, you will need to explain "Why an MBA now?" in relationship to who you are and what you have done so far. I think it is important that you provide Columbia with insights about your background, but don't let your explanation of your past experience crowd out answering why you need a Columbia MBA now. Given limited space you need to tell a story about your background that connects to why you want an MBA. That story is likely to primarily relate to your professional background, but your personal experience, and your motivations are also important potential justifications for why you want an MBA.
Make it personal!
By moving away from the formulaic standard "What are your long and short-term goals and why do you want an MBA now from Columbia", it is clear that Columbia is emphasizing personality and why MBA in this answer and just not goals and MBA. Therefore your answer to this question should not merely be a one-dimensional answer focused solely on career goals. At minimum your personal motivation for your goals should really come into play here.
The resources available at CBS and Columbia University are vast, so figure out specifically what you want from the school as you will need to discuss that.
The program is flexible, so identify your needs from Columbia as specifically as possible. After all, you want to show them you love and need them For learning about what is hot at Columbia, I suggest taking a look at their blog:
Public Offering
. Also look at
Hermes
which provides news on the Columbia community. You will likely want to write about taking a
Master Class
. Japanese applicants should most certainly visit
http://columbiamba.jimdo.com/index.php
. Also see
here
for why Columb ia students love Columbia.
While you should be explaining why you need an MBA, you need to make sure that your reasons align well with Columbia.
I suggest reviewing some of the full course descriptions that you can find on their
website.
You need not mention the names of particular courses as long as it would be clear to your reader that your learning needs align well with Columbia's offerings.
For example, it is really a waste of word count to mention the names of particular finance courses if the main point you are simply trying to make is that you want to enhance your finance skills. Every admissions officer at Columbia is well aware of the programs major offerings. If you have a particular interest in a more specialized course or studying with a particular professor, it might be worth mentioning it as long as it is an explanation of why you want to study the subject and not based on circular reasoning.
An example of circular (tautological) reasoning: "I want to take Capital Markets & Investments because I am interested in learning about capital market investing."
This kind of circular reasoning is so common. Usually it takes place within a paragraph consisting of many such sentences. They actually convey nothing about the applicant. They are just abstract needs and will have limited impact on your reader. The admissions reader wants to learn about you, not about their own program.


An example of an explanation for why: "While I have been exposed to finance through my work at MegaBank of Joy, I presently lack the kind of comprehensive understanding of capital market investing that I will need to succeed as an investment analyst and I know I can gain at Columbia." A more complete explanation would include additional details about the kind of issues that the applicant is interested in learning about and/or specific ways the applicant intended to apply what he or she would learn at Columbia. By focusing on very specific learning needs and explaining those needs in relationship to one's goals and/or past experience, the admissions reader will be learning about you.


Editing Essay 1 down to 500 words.
Chances are extremely high that when you initially write this essay (or any essay) and even when you have good working version of it going, it is likely to be well over 500 words long. Here are some suggestions for editing it down:
1. Is there anything in the essay that repeats what is said in the other essays? If so, you can probably cut it out.
2. Do you find yourself needing to explain too much context about your background? If so, consider whether any of it can be explained in the Optional Essay.
3. Do you find yourself extensively name dropping? "I met with Anand Kumar (Class of 2006), Sally Johnson (Class of 2009), Taro Suzuki (Class of 2010), Anat Weinstein (Class of 2011), Mohammad Efendi (Class of 2012), and Tom Lee (Class of 2013)…" (Note all these names were made up and any relationship to actual Columbia alumni is merely coincidental). If you do, consider cutting or summarizing it. Also consider whether this can be included in the Optional Essay.
4. Do a paragraph by paragraph and then a sentence by sentence search for redundancy. When a client asks for my help in cutting words, that is what I do first.
5. Now the really hard part. You have a tight text and it is still over the word count. You have cut something "important." Prioritize your content and eliminate low priority items. Killing good sentences is never fun, but sometimes is simply necessary.



"Essay #2: Please watch this video. How will you take advantage of being "at the very center of business"? (250 words)"
The day I visited Columbia Business School last year was when they rolling out their new branding campaign,
At the Very Center of Business
(Thanks for the free breakfast. I could have taken a t-shirt too, but I make it a rule never to wear a university's t-shirt unless I am student or an alumnus). After you watch the video, I suggest reading
their detailed press release
on
At the Very Center of Business,
which I will discuss below. Compared to last year's topic on New York City, this topic is actually wide enough to make for more potentially interesting answers.
On one level, CBS is at the center because it is in NYC
. I could make the same totally cynical comment I made last year about how the focus on NYC here is a way to avoid the fact that
their new campus will not be ready until 2017-2018
, but I would not do that. I just did again! Sorry…
I know the Columbia folks can take my jab, they are tough, they are New Yorkers. Anyway everyone knows you don't go to Columbia Business School right now because of the state of the art facility (And after visiting CBS, NYU, Wharton, Cornell, as well as looking into Yale's new building last fall, I can tell you the classrooms at Columbia are underwhelming) you go because of the quality of the faculty and adjunct faculty, the school's deep connections to Wall Street and all other major industries in the city, the networking opportunities, the interning opportunities, the diversity of CBS students, and the city of NYC. Anyone who is considering Columbia and does not factor NYC into the equation would surely be missing a critical part of the school's value proposition. I was recently talking with a potential client who did not quite get this value proposition because he was simply fixated on the classroom. Wh ile classroom technology plays a role in selecting a school, a full-time two-year MBA program at a top American school is simply not reducible to the building. I think this is especially true of Columbia. That said, at least in the class I visited, the professor was great, the students were friendly but highly engaged, and even though the whiteboard was old school (Just like in the video) and hard to see, I was impressed. Columbia really is at the center of NYC, but so is NYU Stern (And given Stern's greater proximity to Wall Street, Soho, start-ups, etc, I think I would be careful about claiming to be at the center of NYC).
Of course, Columbia wants to claim that it is at the worldwide center of business. Maybe, but it has no exclusivity in that regard, but don't tell them that.
I think the branding concept reflects this school's desperate need to assert its self-importance and to have applicants affirm this.
Saying you are at the center is an incredibly narcissistic statement. "I am at the center" is a statement of self-importance. It is pure arrogance. It reflects an underlying insecurity about one's place in the universe, in other words, if someone tells you they are the center, assume they probably are not. At minimum, assume they have a strong need to be loved. I have always maintained that Columbia needs to feel loved. This is especially true in the interview process. It is also true in the essays. Therefore,
YOU MUST TAKE ADVANTAGE OF THE COLUMBIA BUSINESS SCHOOL'S SENSE OF INSECURITY, ITS DESIRE TO BE LOVED, BY AFFIRMING HOW ITS CENTRALITY WILL BENEFIT YOU!
Use the At the Very Center of Business branding campaign to help you brainstorm content for Essay 2:
"The Four Pillars of the Branding Campaign
The campaign narrative is supported by four key attributes that collectively comprise Columbia Business School's brand:
Which of these pillars will you take advantage of? Think about each of them to come up with 1-3 topics for this essay.
KNOWLEDGE
-What specific research activities at Columbia really excite you? How will you use this research?
Will CBS help you become a thought leader? How?
- See my suggestions for learning about Columbia in Essay 1 above.
ACCESS
-How will leverage the access you gain at CBS? In what ways? For what purpose?
COMMUNITY
-What do you hope to gain from the community?
IMPACT
-How will being at the center help you have impact? What kind of impact do you want to have?
In Essay 1, you are explaining why you need an MBA from Columbia now and would surely be addressing particular aspects of the MBA program in your answer.
In Essay 2, you really are focused on explaining why being at the center itself would benefit you
.
The reasons might relate to your professional goals, but may very well be highly personal or most likely a combination of the two.
Given the length, I suggest you focus on two to three ways you anticipate that being at the center will impact your experience. An effective answer here will provide the reader with greater insight into your personality, interests, and motivations. A bad answer might very consist of making a bunch of general comments about why NYC would be great, but not giving the reader into any insight about you.
Essay 3:
What will the people in your Cluster be pleasantly surprised to learn about you? (Maximum 250 words)
This question did not change from last year. I love "SURPRISE US" questions. Actually, one of the things I do in my initial consultations with potential clients is ask this question because it helps me understand whether the person I am talking to has really had to ever sell themselves as a person (and just for getting a job). Unlike Columbia, I don't use it as a basis for selecting clients, but rather as way to gauge an applicant's self awareness and ability to respond spontaneously to an unexpected question.
The wording, pleasantly surprising, is really important.
The topic(s) you should be positive aspects of who you are. This is an essay about how you will add value to your Cluster (If you have no idea what that is, see
here
).
Good answers here are really engaging and very unique
I actually like this question quite a bit because it is a great way for applicants to highlight some really unique aspect or aspects about themselves. The point is that it should be something that would not be obvious about you. The focus may be on something very specific that you did or something about your character. Whatever it is, it should not simply be pleasantly surprising, but also relevant in some way. It might be something that will add value to your Cluster. If it is highly personal, it should reveal a quality or aspect to you that is not merely interesting, but also something really worth knowing. A good answer here might involve an unusual hobby or experience, but the possibilities are endless.
Bad answers to this question
will likely to do the following:
-Focus too much on action and context and not enough on providing an interpretation of oneself.
-Focus on something that is relatively obvious from your resume
-Focus on something that does not really have any clear selling points about who you are.
- Focus on something that simply is not in the least surprising and thus dull
I mention the above because I view these as typical problems I see with ineffective answers to this question. Consider the above a checklist to use when determining whether you are on the wrong track for preparing an effective answer.
Optional Essay: Is there any further information that you wish to provide the Admissions Committee? Please use this space to provide an explanation of any areas of concern in your academic record or your personal history. (Maximum 500 words)
As with other school's optional questions, do not put an obvious essay for another school here. If you read the above, it should be clear enough that this is the place to explain anything negative or potentially negative in your background. If you have no explanation for something negative, don't bother writing about it. For example if your GPA is 2.9 and you have no good explanation for why it is 2.9, don't bother writing something that looks like a lame excuse. This is more likely to hurt than help you. In the same vein, don't waste the committee's time telling them that your GMAT is a much better indicator than your GPA (the opposite is also true). They have heard it before and they will look at both scores and can draw their own conclusions without you stating the obvious. That said, if you have a good explanation for a bad GPA, you should most certainly write about it.In addition to GMAT/GRE, TOEFL, and GPA problems, other possible topics include issues related to recommendations, serious gaps in your resume, concerns related to a near total lack of extracurricular activities, and major issues in your personal/professional life that you really think the admissions office needs to know about.
You can certainly write on something positive here if you think its omission will be negative for you, but before you do, ask yourself these questions:
1. If they did not ask it, do they really need to know it?
2. Will the topic I want to discuss significantly improve my overall essay set?
3. Is the topic one that would not be covered from looking at other parts of my application?
4. Is the essay likely to be read as being a specific answer for Columbia and not an obvious essay for another school?
If you can answer "Yes!" to all four questions, it might be a good topic to write about.
For Reapplicants
"The Admissions Office retains all applications for one year after a decision is rendered. If you are reapplying no more than 12 months from your initial term of entry to Columbia Business School, the checklist below will help ensure that you submit everything the Admissions Committee will need to reassess your candidacy. For example if you applied for August 2013 your will be considered a reapplicant for January 2014 or August 2014. If you are reapplying more than 12 months after your initial term of entry, you must submit a new, fully complete
application."
Reapplicant Essay (No other essays are required)
here
for their criteria. Clearly this essay gives you the opportunity to:
1. Showcase what has changed since your last application that now makes you a better candidate.
2. Refine your goals. I think it is reasonable that they may have altered since your last application, but if the change is extreme, you had better explain why.
3. Make a better case for why Columbia is right for you.
For more about my many posts on reapplication, please see
here
. I have helped a number of reapplicants gain admission to Columbia.
Columbia Loves to Be Loved
One thing that is consistent about Columbia Business School is that they want to know that their school is your first choice. If you have an alumni interview you can be expected to be asked about that very directly. See
here
for my advice on Columbia interviews. Best of luck!
-Adam Markus
I am a graduate admissions consultant who works with clients worldwide. If you would like to arrange an initial consultation, please complete my intake form. Please don't email me any essays, other admissions consultant's intake forms, your life story, or any long email asking for a written profile assessment. The only profiles I assess are those with people who I offer initial consultations to. Please note that initial consultations are not offered when I have reached full capacity or when I determine that I am not a good fit with an applicant.