T
his is the third of five posts analyzing the Stanford GSB MBA Essay Questions for Class of 2016 Admission. The five posts are overall comments, Essay 1, Essay 2, Essay 3, and
additional information/resume/employment history/activities
. My analysis of Stanford GSB interviews can be found here. In addition to the Class of 2016 posts, I also recommend reading and/or listening to my presentation, "So you want to get into Stanford GSB?" which was made to a Japanese audience in March 2011. That presentation focuses on issues that are applicable to all applicants as well as some issues specific to Japanese applicants.
You can find results and/or testimonials from my clients admitted to to the Stanford Classes of 2015, 2014, 2013, 2012, 2011, and 2010 here. My full Stanford results prior to the Class of 2014 can be found here. My clients admitted to Stanford GSB have come from China, India, Japan, South Korea, and the United States and have had extremely diverse professional and educational backgrounds. The advice I provide below is based on that experience.
What do you want to do—REALLY—and why Stanford?
A good answer to Essay 2 will do the following three things:
1. The essay demonstrates that applicant intends to be an agent of change in whatever career he or she pursues after his or her MBA.
2. The applicant's career goals are believable.
3. The applicant can clearly and effectively explain why Stanford GSB is the ideal MBA program to attend in order to achieve his or her goals.
If you have a draft of Essay 2 that does these three things, chances are that you are well on your way to writing a great essay.
I think the inclusion of "REALLY" reflects the fact that Stanford was tired of receiving answers to this question that were simply based on what applicants thought Stanford wanted to hear. I can say that my past clients who received interview invitations as well as the the smaller group of those who were admitted were able to put forward goals that do all of the following:
1. Consistent with Stanford's mission to "Change lives, Change organizations, Change the world." This really does matter. Stanford takes 400 people a year and is typically admitting approximately 7% of those that apply. It is a precious opportunity to go there and hence giving a spot to someone whose goals are simply mundane and not focused on impacting the wider world is not what Dean Bolton and his team are interested in doing. I had known this before meeting Dean Bolton when I was part of a group of admissions consultants who met with him in 2011, but I am even more convinced of it now. Whatever your objectives, whether it is to be a partner at a consulting firm, a leading investment banker, a social entrepreneur, a global marketer, an executive in the energy industry, a politician, etc., you need to provide a sense that you have the c apability to have wide impact in your chosen field.
2. Consistent with the applicant's biography. That is to say, applicants have facts in their past experience that must make their goals believable. I work with reapplicants to Stanford and for those who are dinged without an interview, I frequently find their goals essays lack this consistency. For instance, someone who says they want to go into social entrepreneurship, but has no history of getting involved with non-profit organizations, lacks significant recent volunteer experience, and/or has no significant entrepreneurial experience, simply lacks credibility.
Before reading the rest of the post, you might want to take a look at interviews I conducted with members of the Class of 2013, Class of 2011, and Class of 2010 as a number of their comments relate directly to Essay 2. If you are considering an entrepreneurial career path, please see one of my earlier posts. Japanese applicants should also take a look at the blog sutebuu survival @Stanford GSB by a member of the Class of 2011, which provides insights into the curriculum and other aspects of life at Stanford. You can find my interview with "Sutebuu" here.
THIS IS A FUTURE DIRECTED QUESTION
Unlike some other "Why MBA" questions, Stanford is not asking about the past. You have essays 1 and 3 to discuss the past. You will write about that in the other essays. Instead focus not just on your goals, but on your mission. How will you make a difference and how can Stanford GSB help you do that? You need to be ambitious. Simply stating what your goals are and why Stanford is the best place for you to accomplish them is not exactly what you need here. Instead, you need to articulate a vision related to your goals and a vision that is connected to Stanford's mission to train global leaders. For more about writing goals that are both ambitious and visionary, see here.
ARE YOUR GOALS EXCITING?
Making career goals exciting requires thinking about whether your goals are compelling. Admissions committees ask applicants to write about their goals after graduate school, but can applicants actually know what will be on the cutting-edge in two or three years? While many applicants will be able to successfully apply with relatively standard goals ("I want to be a consultant because…"), communicating aspirations requires going beyond the typical.
Be informed. Stanford Admissions needs to believe you know what you are talking about. If you are changing careers, no one expects you to be an expert, but you should come across as having a clear plan based on real research into your future. If you are planning on staying in your present industry, you should be well informed not only about the companies you have worked for, but about the industry as a whole. If you are not already doing so, read industry related publications and network.
Those who are changing fields should most certainly read industry related publications in their intended field. I also suggest conducting informational interviews with at least one peer level and one senior level person in that field. Conduct a peer level interview to get a good idea of what it would be like to actually work in that industry. Conduct a senior level interview to get the perspective of someone who can see the big picture and all the little details as well.
Don't know anyone in your intended field? Network! One great way to start is through LinkedIn. Another is by making use of your undergraduate alumni network and/or career center.
LEARN WHAT IS HOT. No matter whether you are changing fields or not, learn what is hot now and try to figure out what will be hot by the time you graduate. Now, of course, this is just a plan and chances are that what is hot in your industry or field now may very well be cold in the future. The point is to come across to Stanford as someone who is not only well informed, but has CUTTING-EDGE knowledge. Some great general sources for learning what is hot:
From the Business Schools: Feed your brain with cutting-edge ideas from the best business schools in the world. If you have an iPhone or iPad, you can download the Stanford Business Magazine App for free. You can also read the Stanford Business Magazine online or download it. Most Stanford GSB faculty research papers are available for free in PDF format on the Stanford GSB website at https://gsbapps.stanford.edu/researchpapers/. Other great sources of information include Stanford Social Innovation Review, Harvard Working Knowledge, Harvard Busine ss Review, Harvard Business School Publishing, University of Chicago GSB's Working Papers, The University of Chicago's Capital Ideas, Knowledge @ Wharton, and MIT Sloan Management Review.
You may also want to do a search on itunes for podcasts: My favorites are Entrepreneurial Thought Leaders (from the Stanford School of Engineering, but totally relevant to the GSB), Chicago GSB Podcast, Net Impact, and Harvard Business IdeaCast. INSEAD, IMD, LBS, and Wharton also have podcasts.
LinkedIn Answers: I would suggest that everyone join LinkedIn and make use of LinkedIn Answers. LinkedIn Answers is a great way to tap into cutting edge expertise. Follow LinkedIn's rules and you will often be able to obtain excellent information.
Hoovers: For information about specific companies, Hoovers is just a great way to learn about key facts including competitors (a very useful way of knowing who else you might want to work for and to learn about an industry). While primarily focused on the US, Hoovers does have listings for companies worldwide.
Vault: For scope of coverage, this site is a must. Vault includes both career and admissions information. It includes both company specific and industry-wide information.
Other sources: Read magazines, websites, and books that relate to your intended field.
DOES IT ALL MAKE SENSE? When formulating goals, the necessary prerequisite for formulating aspirations, I suggest going through a formal process of goals analysis. If you are still trying to figure out what you want to do with your life, you can use the following grid.
The following image may not work for all browsers. If so, see here. Click to enlarge it.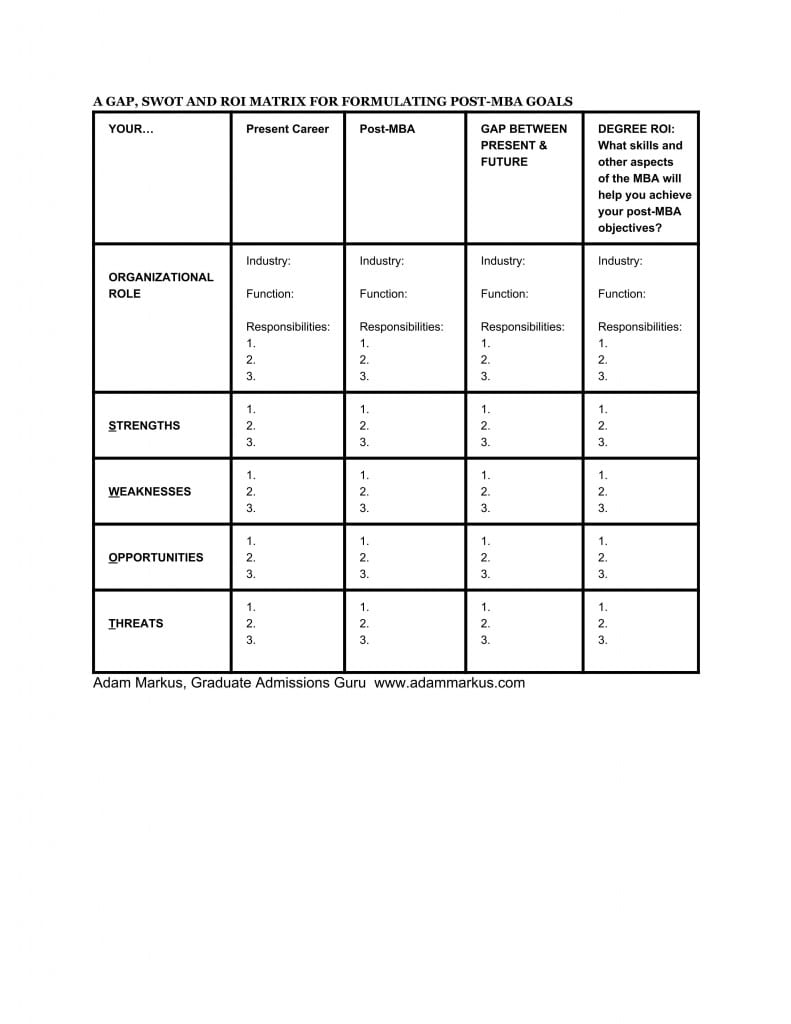 Step 1. Begin by analyzing your "Present Career." What roles and responsibilities have you had in clubs, part-time jobs, internships, volunteer activities, etc.? What was/is your functional role(s)? What was/are your responsibilities?
Next, analyze your present strengths and weaknesses for succeeding in your present career. In particular, some of your greatest strengths may have been demonstrated outside of work, so make sure you are accounting for them.
Strengths: What are you good at? Where do you add value? What are you praised for? What are you proud of?
Weakness: What are you bad at? What are you criticized for? What do you try to avoid due to your own limitations? What do you fear?
Next, analyze your situation in right now. What opportunities exist for your growth and success? What threats could limit your career growth?
Step 2. Now, do the same thing in Step 1 for your "Post-MBA" future after you have earned your graduate degree. If you cannot complete this step you need to do more research and need to think more about it. I frequently help clients with this sort of thing through a process of brainstorming.
Step 3. If you could complete step 2, than you should see the "Gap" between your present and your future. What skills, knowledge, and other resources do you need to close the gap between your present and future responsibilities, strengths, and opportunities?
Step 4. After completing Step 3, you now need to determine how an MBA will add value to you. It is possible that an increased salary as a result of job change will be sufficient "ROI" for the degree to justify itself, but you should show how a degree will allow you to reach your career goals. How will the degree enhance your skills and opportunities and help you overcome your weaknesses and external threats? If you can complete Step 4, then you should be ready to explain what your goals are, why you want a degree, and the relationship between your past and future career, as well as your strengths and weaknesses.
The above table will also help you answer such common interview questions as: Where do you want to work after you finish your degree? Why do you want an MBA? What are you strengths? What are your weaknesses? What are your goals?
"and why Stanford?"
Your objective in the essay is demonstrate why you would greatly benefit from a Stanford MBA education. Actually without that, your aspirations will not make sense because you must have career goals that require Stanford. Assume that for your goals to be effective, Stanford admissions has to make the determination that you are someone who will make best use of their resources. Stanford is proud of what they are and what they can offer. They can reject anyone and they do reject a higher percentage of applicants than other schools. Keep in mind what Derrick Bolton, the Director of Admissions, says about Stanford Essay 2:
How do you plan to take advantage of the incredible opportunities at Stanford? How do you envision yourself contributing, growing, and learning here at the Business School? And how will the Stanford experience help you become the person you described in the first part of Essay B [Essay 2]?
One thing I think that separates great versions of Essay 2 (the ones that get applicants an interview) and mediocre versions (the ones that usually don't get applicants an interview) is the extent to which the applicant is able to show that Stanford is not a mere afterthought or an option, but actually a necessity to accomplish one's aspirations. Fully account for that in your essay. Learn as much as you can about the program and think deeply about who it will impact you. Stanford views itself as a change agent. Show in you essay how it will change you.
The writing process: After going through a process of reflection and analysis, prepare a version of Essay 2 that includes everything you want to say. Next begin the process of revision. Here are a few key things to consider when revising:
1. Think about the most important thing you need admissions to know about what you want to do after your MBA and why Stanford GSB is the best place for you to do that. Begin your essay with that. Chances are good that on your initial draft the most important thing is somewhere in the middle or end of your essay.
2. Prioritize the rest of your content: What do they really need to know? Chances are you have lots of details that can be cut.
3. Make a formal argument: Your essay should be neither a set of disembodied points or a summary, instead it should be a formal statement. Effective forms of this statement vary. The important part is that the reader should be able to understand it clearly and be convinced by it.
Once you have put together Essay 2, consider how the rest of your application supports what you say in it. Without over-marketing yourself or even necessarily writing it directly in the essays, make that your other essays and other aspects of your application show how your potential will contribute to your future aspirations.
I am a graduate admissions consultant who works with clients worldwide. If you would like to arrange an initial consultation, please complete my intake form. Please don't email me any essays, other admissions consultant's intake forms, your life story, or any long email asking for a written profile assessment. The only profiles I assess are those with people who I offer initial consultations to. Please note that initial consultations are not offered when I have reached full capacity or when I determine that I am not a good fit with an applicant.